Isn't this just a Pub Crawl?
There is no crawling involved on Auckland Historic Bar Tour, and the places we visit are nicer than your average pub, even though we squeeze a pub or two in there, and all of them hold historical significance. We pride ourselves on our ability to have everyone walk away learning something about the history of New Zealand, even professors from Auckland University of Technology.
What is the difference between a Bar Tour and a Pub Crawl?
Well, it's very similar to how it sounds, one you stumble between where every you can get the cheapest drink, and the other to are taken on a tour where you learn about; the city, the country, the beer, the wine, the monuments, the history, the culture, the people, the places, the buildings, the heritage, and more!
Drinking in Auckland On The Tour
What if I can't drink 5 of the best New Zealand beers?
The beers are spaced out over the evening. No one will force you to drink if you don't want to but trying different beers form around New Zealand is a tasty cultural experience. If you don't want to drink you don't have too.
What if I want to drink New Zealand wine?
Auckland Historic Bar Tour can 100% be a tour where you come along and try New Zealand wines. The tour its self is about history an the quirky stories that make up New Zealand History. They pair well with a nice glass of New Zealand wine.  
What should I do if don't want to drink?
Part of the fun of the tour is stopping having drinks and getting to know each other in bars along the way. If you don't want to drink but you still want to do the tour you totally can! We will put together a series of New Zealand non-alcoholic options for you to try.
Useful Things To Know About Auckland
Where should I eat in Auckland, and will there be food available on the tour?
There are a heap of places to eat in Auckland, it is a city where if you are motivated to explore it will reward you. The best place to eat before the tour is at the first bar then you will be ready when we arrive and start. If you would like recommendations on where to eat send us an email and we will send you a list. Eating first will mean that you can enjoy the tour. In fact, eating first is highly recommended all bars will have food at them but time spent in the bars is short so you might not have time to eat. Get to the first bar and eat there then you will be ready to go when you finish dinner.
What should I do in Auckland at night and when and where does the tour finish?
The tour finishes at around 10 pm in midtown, the guide will recommend bars and things to do in the city if you are asking like many people do: What should I do in Auckland? The bars on the tour are specifically chosen to be different form one another so that there is something for everyone. Pub in Auckland? We got it. Up market bar in Auckland? We got it. Hidden bar in Auckland? We got it. Microbrewery in Auckland? We got it. Cozy bar in Auckland? We got it. If there is something we don't have on the tour, ask our guide. That's what they are there for.
What kind of clothes should I wear to go out in Auckland?
Be comfortable. New Zealanders dress more casually than most so a pair of jeans and a shirt with a collar is fine, most people can get away with a t-shirt if it has the right style, but no Jandles /flip flops/ thongs or gumboots / wellington boots / waders / rubber boots. We are not going to night clubs, but you will need to wear clothes that will let you get into bars.
More Information About The Tour
What would I learn on a New Zealand history tour?
We talk predominantly about the history of alcohol in New Zealand, the first beer was brewed on March 27th 1773, we also talk about Auckland City and how it has grown and changed. New Zealand is a big country of drinkers and that has meant that there was a drink at almost all of our key moments in history. The fun thing about New Zealand is we can remember them… kind of.
Which bars in Auckland do we go to on the tour?
There are five of the best central city Auckland bars that are chosen because they are all very different from each other so that you can find a bar that suits you. There aren't many buildings in Auckland older than 1850. We go to bars and buildings that have both historic significance, a place where we can drink, and help to tell the story. For more than that you will have to come on the tour if we told you about all of the awesome hidden bars in Auckland they wouldn't be a secret anymore would they?
How Much Things In Auckland Cost
How much do drinks in bars in Auckland cost?
Drinks in Auckland range in price, but an average drink in a bar will cost you about $12 depending on where you go. There are bars that are cheaper and some that are more expensive often you will pay more at a bar with a view or that is nicer. What that means is that this tour a great deal!
What if I can't do the Auckland tour on Saturday?
If you can't make it along to the Auckland Tour on a Saturday tour get in contact with us and we will do our best to give you some options about other days you could potentially do the tour.
How do I do a private Auckland tour?
If you are a group of 7 or more people and you would like to do a private Auckland tour we can organise that for you we can even be flexible about the time of day depending on what you are looking for and if there is a special occasion with enough warning we can even work on different content and stories for the tour. Just send a message and inquire and we can go from there.
Making Friends While Traveling In New Zealand
How many people come on the tours?
Tours range in size but we wouldn't have a tour bigger than 16 people. We are a small business and things week to week are never the same. Doing a tour with us means you are supporting an independent tour company, you are supporting local bars, and you are supporting local beers. The bonus for you is that his is an authentic tour.
What to do if I'm traveling alone in New Zealand?
You can come along and make friends! New Zealand is an easy place to be a solo traveller as people speak English and the locals are friendly so meeting not only other travellers but also making friends with locals is easy if you are willing to say hi o people. Our tour guide is great, let us know you are a solo traveller and we will make sure you have fun and feel included.
What are some free things to do in Auckland?
Some of our guides do the free walking tours in the city if you are a traveling on a budget in New Zealand and if you are very lucky you might catch one of them. You are welcome to email us and ask about their schedules. If you are looking for cheap things to do in Auckland you could do their walks and then ask them for a bar recommendation, or even better you could slip then a tip or offer to buy them a drink and they might take you for a drink. On social media we regularly post information about what happened today in New Zealand history so if you follow us you will get to see it for free. Remember that there are lots of restrictions about where you can drink in Auckland in public so be careful if you decide to do your own thing.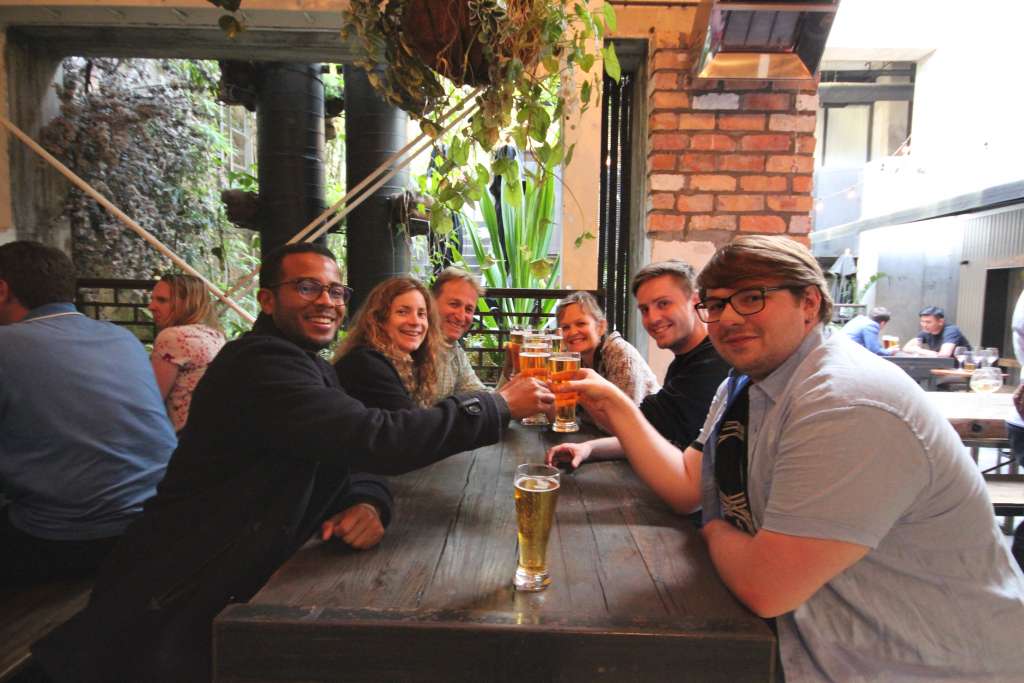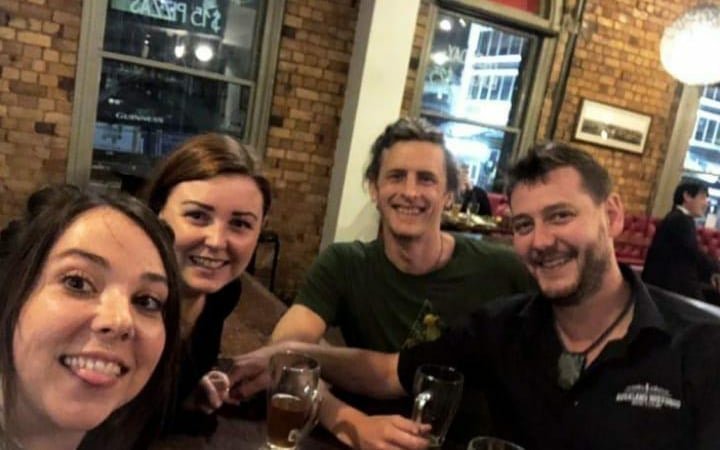 What's Included?
5 Free New Zealand Beers
Three Hour Tour About New Zealand History
Professional Guide
Stops At 5 Historic Auckland Bars
Please eat before you come.
Start Time: 6:30pm . Return Approx 9:30pm
All are welcome but be aware that places are limited so you need to reserve your place.
Traveling between bars and stops is on foot so being comfortable is important.
 If you have already booked and need the address of where we start it's  'Brew On Quay' in Britomart. 102 Quay St, Auckland CBD.
Tour every Saturday but private bookings are available.
Remember that bars reserve the right not to serve customers who are intoxicated or underage, please be sure not to get too drunk.
R18 – ID Required.
Drinking in Auckland On The Tour